China

organizations:

China Shipbuilding Industry Corporation (CSIC)

China State Shipbuilding Corporation (CSSC)

companies:

Dalian Shipbuilding Industry Co. Ltd.

QingDao BeiHai Shipbuilding Heavy Industry Co. Ltd.

Bohai Shipbuilding Heavy Industry Co., Ltd.

Tianjin Xingang Shipyard

institutes:

China Ship Design & Research Center Co., Ltd. (CSDCSH)

Shanghai Merchant Ship Design & Research Institute

India

Tebma Shipyard Ltd.

Indonesia Shipbuilding and Offshore Industries Association

companies:

PT. Jasa Marina Indah

Japan

Japan The Shipbuilders' Association of Japan (SAJ)

The Cooperative Association of Japan Shipbuilders (CAJS)

Japan Marine Equipment Association (JSMEA)

Japan Ship Technology Research Association (JSTRA)

IHI Marine United Inc.

Imabari Shipbuilding Co., Ltd.

Kawasaki Shipbuilding Corporation

Mitsubishi Heavy Industries Ltd.

Mitsui Engineering & Shipbuilding Corporation (MES)

Namura Shipbuilding Co., Ltd.

Oshima Shipbuilding Co., Ltd.

Shin Kurushima Dockyard Co., Ltd.

Sumitomo Heavy industries Marine & Engineering Co., Ltd. (SHI)

Universal Shipbuilding Corporation

Terasaki Electric Co., Ltd.

Kamome Propeller Co., Ltd.

Orient Marine Co., Ltd.

National Maritime Research Institute (NMRI)

Ocean Policy Research Foundation (OPRF)

Tokai University

Korea

The Korean Shipbuilders' Association (KOSHIPA)

Hyundai Heavy Industries Co., Ltd. (HHI)

Deawoo Shipbuilding Marine Engineering Co., Ltd. (DSME)

The Maritime & Ocean Engineering Research Institute (MOERI)

Korea Ocean Research & Development Institute (KORDI)

Korea Marine Equipment Research Institute (KOMERI)

Inha University

Malaysia

Association of Marine Industries of Malaysia (AMIM)

Philippines

Gensan Shipyard,

RD Fishing Industry Inc.

Singapore

organization:

Association of Singapore Marine Industries

companies:

Keppel Singmarine Pte., Ltd.

SembCorp Marine Technology

Thailand

company:

Asian Marine Services Public Co., Ltd.

       and the following observers:

governments:

Standardization Administration of the People's Republic of China (SAC)

Ministry of Land, Infrastructure and Transport, Japan (MLIT)

Japan Coast Guard (JCG)

Ministry of Commerce, Industry & Energy, Korea

Ministry of Transport, Thailand

Ministry of Industry, Thailand

classification societies:

American Bureau of Shipping Pacific (ABS)

Indian Register of Shipping

Korean Register of Shipping

Lloyd's Register Asia

Nippon Kaiji Kyokai (ClassNK)

others:

The Nippon Foundation

Japan Ship Owners' Association

Japan Federation of Coastal Shipping Association

Mitsui O.S.K. Lines Ltd. (MOL)

Yamamizu Shipping Co., Ltd.
I. Opening Address
Mr. Takayuki Mabuchi, Chairman, JSTRA, and Mr. Makoto Harunari, Director-General, Maritime Bureau, MLIT, made opening addresses.
| | |
| --- | --- |
| | |
| Mr. Takayuki Mabuch | Mr. Makoto Harunari |
II. Keynote Speech
Mr. Kimio Kitano, Chief Secretary, Committee for Technical Affairs, SAJ, made a key note speech titled Needs of Technical initiative and cooperation of Asian Shipbuilding Industries in International Maritime Organization (IMO).
Mr. Kimio Kitano
III. Presentations and Discussions
Item 1 Goal Based Standards (GBS)
Presentations
i)
"Issues on the Pilot Panel Meeting of the GBS Tier III"
Mr. ManSoo Kim, Technical Director/Hull Basic Design Team, DSME
ii)
"Current Status and Future Development of GBS"
Mr. Kohta Shibasaki, SAJ (Manager, Structure Design Section, Initial Design Dept., Ship & Offshore Structure Division Universal Shipbuilding Corporation)
iii)
"Development of GBS Tier V (Industry Standards and Practices)"
Mr.Jong-Kap Lee, Principal Research Engineer, MOERI
| | |
| --- | --- |
| | |
| Mr. ManSoo Kim | Panel Discussion |
Summary
In current discussion on GBS, many problems which would impact shipbuilding industry were identified. It was suggested that shipbuilding industry should keep watching carefully over the IMO discussions and actively and collaboratively participate in them. In order to practically assure the maritime safety, importance of the industry standards was also emphasized.
Item 2 Ship Recycling
Presentations
i)
"Current Status and Future Development of Draft Ship Recycling Convention"
Mr. Tsuyoshi Yahagi, Managing Director, JSTRA
ii)
"Current situation on Ship Recycling in Korea - Matters related with shipbuilders-"
Mr.In-gyu Lee, Principal Engineer/Basic Ship Design Team, DSME
iii)
"Overview of the Draft Guidelines for the Development of the Inventory of Hazardous Materials"
Mr. Takeshi Naruse, Senior Researcher/Structure and Materials Department, NMRI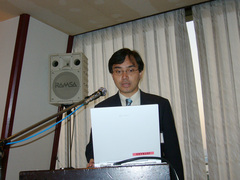 Mr. Takeshi Naruse
Summary
Participants recognized substantial progress in IMO concerning ship recycling. Valuable information of ship recycling activities and initiatives in Korea was provided. Participants were also informed of recent movement in ISO/TC8, Ships and Marine Technology, and concern on additional possible burden on ship recycling yards. Then it was suggested that industry should participate in such activities from the very early stage when new work items are initiated.
Item 3 Corrosion Prevention
Presentations
i)
"PSPC Guideline and it's Effect"
Mr. Sang Soo Seo, General Manager/Anti Corrosion Design-Hull Design Department, HHI
ii)
"The introduction of China National Standards (GB) on Marine Coatings"
Mr. Jin Xiaohong, Professor, Deputy Chief Engineer, Xiamen Branch of Luoyang Ship Material Research Institute
iii)
"The response suggestions on the PSPC implementation in China's shipbuilding industry"
Mr. Hong Tao, Section chief, CSSC
iv)
"Coating conditions in water ballast tank, void space and cargo oil tank of aged ships and required performance standard of protective coatings for new ships"
Mr. Takanobu Murakami, SAJ (Manager, Ship Planning Part, Ship Planning Department, Shin Kurushima Dockyard Co., Ltd.)
v)
"Corrosion resistant steel for Cargo oil tanks of crude oil tankers"
Mr. Shin Imai, Chief Researcher, JSTRA
| | |
| --- | --- |
| | |
| Mr. Hong Tao | |
Summary
A lot of information on corrosion prevention was provided from various points of view. The great impact of PSPC on shipbuilding and a number of problems that the industry should challenge were identified. Participants were also informed of an interesting new technology of corrosion resistant steel which would benefit shipbuilding industry. All participants shared the view that they should further collaborate to overcome the corrosion issue.
Item 4 Any Other items
Presentations
"Status and Feedback of the Application of CSR in China"
Mr. Yao Zhihua, Chief engineer, CSDCSH
Item 5 ASEF Framework
Discussion on Draft Flame work presented by JSTRA
Summary
The participants discussed the draft ASEF Framework prepared by JSTRA. With some modifications, the Framework was unanimously agreed and adopted as Resolution 1(1) as set out in the Annex. KOSHIPA acknowledged its willingness to host the next year's Forum as the Organizer, and it was highly welcomed by all the participants. A request to circulate the participants list with e-mail addresses (or copy of business cards) was supported without objection. Then, the coordinator announced that it will be circulated with the summary record of this session, and closed the Forum by expressing his hope to all to keep close contact with each other.